Balak with Bonus Teaching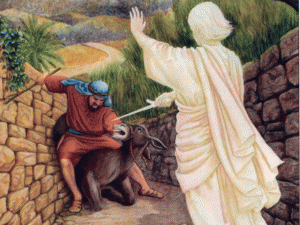 It may be the oddest, and even the most whimsical, parsha of them all. This week we begin with the plotting of Balak, King of Moab. Having assessed the might of Israel, he has concluded outright military victory against them is to o difficult, so he enlists the help of a "have prophecy will travel" consultant we call Balaam, son of Beor. The plan: Curse Israel and then conquer them. The only thing standing in the way of this multinational plot (we don't forget the Midianites are there too) is a donkey who suddenly acquires the gift of speech, a warrior Messenger who is probably Yeshua in pre-incarnate form and, oh yeah, did I mention Father Yah is dead set against the whole enterprise? And at the end of all that, it turns out Israel still gets decimated, but not by a pagan army or an overly-ambitious prophet, but their own depravity makes them their own worst enemy.
And also this week check out the bonus calendar teaching "Jacob and the Tabernacle of the Sun", a very deep look at the calendar secrets behind Numbers 24:17 connecting Israel to the Tabernacle and the priesthood and from there, to the cosmos of Father Yah. Not to be missed!