Balak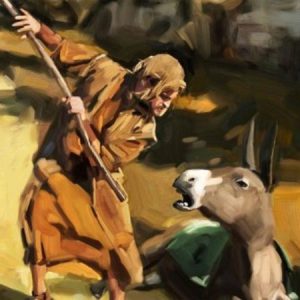 Balak refers to the man, Balak of Zippor, who was the king of Moab and a dedicated enemy of Israel. When Balak then hears of a man named Balaam who can predict the future and cast curses, he hires him to curse Israel. However, Balaam can truly hear Abba YHWH's Will and Abba YHWH tells him plainly that he can't curse Israel. On three occasions the king of Moab wants a curse against Israel but only gets blessings for them instead. And then Balaam gives a fourth blessing on his way out—one for the proverbial road as it were.
Ironically also, Balaam disobeys Abba YHWH even as he correctly delivers the message, for Abba YHWH doesn't want him to go to the king of Moab in the first place. When Balaam disobeys, he gets on his donkey to make the journey, but the donkey sees a vision of a Messenger from Abba YHWH and refuses to budge. Balaam beats the donkey three times and then the beast protests by complaining that she sees the Messenger barring her way. Eventually the Messenger allows Balaam to see the king of Moab who must then abandon his plans against Israel.
However, the ultimate irony is that what Balak could not achieve through either military or supernatural means he did through just sending in some Midianite party girls. Once Israel went astray with those pagan ladies, a plague came and killed many more than would have perished by Balak's sword. Israel's worse enemy is Israel. Also please check out our two special "Insider Look" features: Going deeper into the biography of the Apostle Shimon Keefa (Peter) in Video #3 and entering the often rough and tumble politics of textual criticism in Video #4!