2022 Hanukkah Special!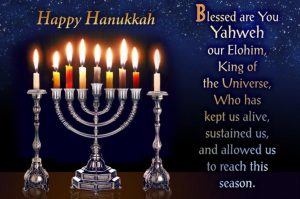 From the pages of Genesis to Revelation, no feast has more clues about its prophetic approach than Hanukkah. This so-called "optional" feast that Jews keep though it is not in Tanakh and most Christians do not keep though it is in Yochanan 10, is one important enough to Yeshua that he went 90 miles in the rain and mud to get to Jerusalem, knowing he would get in and argument and yet proclaimed to the Pharisees, "I and my Father are one." Join the journey to see Hanukkah also foreshadowed centuries in advance by Nehemiah and others. Also, for those of you who saw part 1 of the archaeology update in "Mikkets" about the Lost Biograph of Peter, part 2 is in video 2 and is not to be missed! But that is assuming you are watching from Shabbat, but I had to put the Hanukkah Special up before Mikkets on Wednesday night while Mikkets will air Thursday night.

Click this Link to Download the Notes!