Kedoshim (Audio Portion)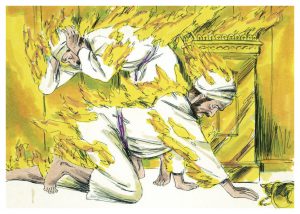 The priesthood just got a lot harder to do. In the wake of Nadav and Avihu's tragic deaths, the entire nation of Israel has been on edge, and no one more so than Aaron himself and his two surviving sons, Eleazar and Ithamar. When the death first happened, an entire new corpus of massive regulations was given to ensure it would not happen again. Now down to only three priests for a nation of more than 2 million, even more regulations have been given from Father Yah, that apply to priest and layman alike, and the stakes could not be higher. Find out though the true divine intentions behind the rules and see just how gracious Father Yah truly is, even when it seems He shows an angry face.
Please also note: This parsha will be up for a few days until the 2017 Pesach Special comes on April 10th, and that Pesach Special will post both here and in Free Teachings. So if you watch this parsha later in the week, it has not gone away but is simply the parsha BEFORE the Pesach Special! The study questions that are given in Aharei Mot, however, will not be answered until the return of the next regular parsha, Kedoshim, on April 19th. Enjoy the best of the season!