Vayachel-Pekudei (Audio Portion)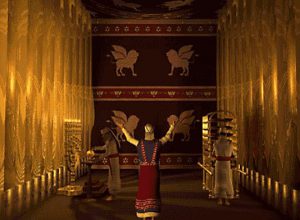 "Vayachel" means "and he assembled". The verb is derived from KAHAL, Hebrew for "assembly, congregation". After a brief sermon on the importance of Shabbat, Moshe then gets the Israelites to work on the manifold details of building the Tabernacle and related furniture and objects.
"Pekudei" means "these are the records/expenses" and the portion opens with giving the pricing values for the materials that will be used in the Tabernacle. Many exacting physical (and spiritual) details are given for all the wondrous objects and the Tabernacle. But after all these long lists (from this portion and the previous ones) we finally get to the "payoff" in lovely chapter 40. It is in chapter 40—the last of Exodus—that time literally begins again as the priests begin their official service for Israel.