In Search of the Last Autograph Manuscript of the New Testament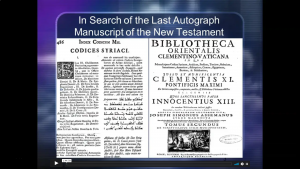 In a special exclusive just for One Faith One People Ministries friends and members, this is the only place to the get the full story of my ongoing quest to retrieve Aramaic Gospels written in 78 CE from the Vatican Library. This story is completely updated, including the most recent correspondence between myself and the staff at the Vatican Library. Enter the mystery and follow the clues in this nearly 2 hour exploration into real history and spiritual politics. This is the only place to get the full story of what I have told only in shorter versions before. This is not Hollywood and it's not Dan Brown either. It's a real life adventure in quest of what will be the most important discovery since the Dead Sea Scrolls…and it's all true!
Compare this to the "public version" that comes in at 28 minutes!
Still in a hurry? Read this brief scholarly essay complete with maps and a bibliography.
Click Link to Access Notes for Tablet or Phone!
Or, take a wider view and see how to separate history from legend in Syriac religious literature.
Click Here to Download Notes for Tablets and Mobile Phones
"The extraordinary richness of the Vatican manuscript collections – Latin, Greek and Oriental – make it one of the world's outstanding libraries in terms of the quantity and the quality of the manuscripts preserved there, which range from papyrus codices of the Gospels and of other New Testament writings, transcribed only a few decades after they were composed, to late antique manuscripts of Vergil and Terence." – Official statement from the Vatican Library, https://www.vaticanlibrary.va/en/the-collections/manuscript-department.html.